Right Frank
International Nutrition and Genetics Technologies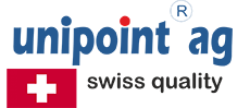 Unipoint
Unipoint ag was founded in 1986 by a group of Swiss scientists and investors, with the aim to find and develop new feed additives based on natural nutrients that benefit animal health, performance and productivity.
Unipoint's mission is to find ways to enhance the productivity and profitability of farms and the animal production industry through nutrition and to do this in a scientifically sound way.

Unipoint ag invests continuously in development and quality control to guarantee high quality products which enhance performance and help to provide better protection against disease.




Unipoint ag exports its products worldwide and is always looking for new, dynamic partners. The company consistently pursues product registration and supports its product range with technical support and high level research.

Unipoint's main mission is to find, in collaboration with leading scientists, solutions for the problems caused by mycotoxins, which are a threat to both animals and humans.




Nufoer
The Spanish company Nufoer specialises in developing and manufacturing feed additives for animals.It is a family business whose activity is based on the traditions of consistent quality and solid cooperation.The…
more >

Coventry Chemicals
Coventry Chemicals is ISO 9001:2000 and ISO 14001 accredited. Furthermore the company is a member of CHSA, ISSA and BACS giving you the confidence not only that the products are…
more >

Cogent
Cogent combines the best of British genetics developed through our own pioneering UK breeding and testing programme with the very best of US and Italian bulls from the market-leading World…
more >

Frank Wright
British company Frank Wright was founded in 1870. The Company manufacturers its products in the biggest single site premix factory in the World. The CompanyFrank Wright is the largest independent premix…
more >