Right Frank
International Nutrition and Genetics Technologies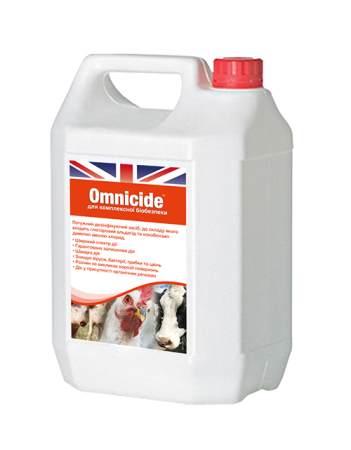 The Original Broad Spectrum Animal Health Disinfectant Containing Glutaraldehyde and Cocobenzyl Dimethyl Ammonium Chloride.

• Broad Spectrum Disinfectant

• Approved and recognised by governments

• Fast Acting and Fast Acting

• Proven Residual Activity

• Eradicates Virus, Bacteria, Fungi and Mould

• Non Corrosive to Surfaces at Dilution

• Active in Organic Matter
Omnicide – For Complete Biosecurity
Omnicide is the original Glutaraldehyde and Quaternary Ammonium blended disinfectant. Using Coventry Chemicals discovery Coco benzyl Dimethyl Ammonium Chloride and genuine glutaraldehyde
Composition of Active Ingredients:
• 15% Glutaraldehyde
• 10% Coco benzyl Dimethyl Ammonium Chloride
Omnicide is the most broad spectrum surface disinfectant on the market today. Highly tested independently in many countries of the World. For uses in horticulture, poultry, pigs, cattle, sheep, equine. Farms, hatcheries and transport. For food areas, veterinary clinics and cats and dogs and many other areas.
Omnicide can be used through the whole disinfection process.
• Terminal hygiene of breeding and rearing houses
• Foot baths.
• Wheel dips and sprays.
• Misting before restocking with both thermal and cold foggers.
• In all areas of the hatchery
• For the sterilization of hatching eggs by either dipping or misting.
• In slaughter houses at clean down.
Omnicides powerful contact activity kills pathogens which resist other disinfectants.
Omnicide destroys:
• Gram+ bacteria
• Gram- bacteria
• Mycobacteria
• Mycoplasma
• Bacterial endospores
• Lipophilic DNA virus
• Lipophilic RNA virus
• Hydrophilic DNA virus
• Hydrophilic RNA virus
The efficacy of Omnicide has been independently proven in tests by Governments, Universities and Institutions around the world.
Omnicide has been used worldwide as an approved disinfectant against pathogenic agents, which cause specific and notifiable diseases, at the following dilution rates:

| | |
| --- | --- |
| Classical swine fever | 1:200 |
| African swine fever | 1:200 |
| Transmissive gastroenteritis | 1:400 |
| Porcine epidemic diarrhea | 1:200 |
| Swine vesicular disease | 1:100 |
| Swine dysentery | 1:150 |
| Paramixoviridae | 1:125 |
| Newcastle disease | 1:125 |
| Avian influenza | 1:125 |
| Infectious bovine rhinotracheitis | 1:1000 |
| Bovine viral diarrhoea | 1:200 |
| Foot & Mouth disease | 1:60 |
| Bovine respiratory syncytial virus | 1:750 |
| Cowpox | 1:500 |
| | |