Right Frank
International Nutrition and Genetics Technologies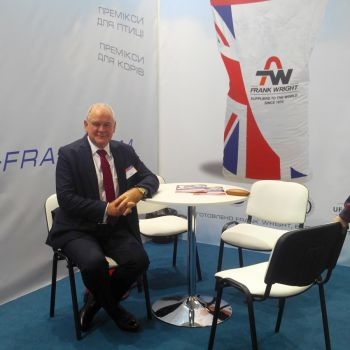 The exhibition bottom line
We are truly grateful to all our business partners who attended the Right Frank show case during the three full days of the event. It is such face-to-face meetings and lively discussions that are the best feedback for us; they facilitate unraveling burning issues in close collaboration with you, as well as enabling us to vector the development of our future business partnership together!
It has become a good tradition that Right Frank Ltd along with the British Embassy in Ukraine and Ukrainian Agribusiness Club participates in the International Exhibition "Grain Tech – Agro Animal Show", which was held on 15-17 February 2017 at the exhibition centre "KyivExpoPlaza". The British Ukrainian Agribusiness Forum "Agribusiness of tomorrow: investment in profitability" was held as a part of the exhibition for the third year in succession.
Many participants representing companies from around the world were involved into the Forum, and Right Frank was no exception. This year we invited Mike Button, the General Manager - Healthcare at Coventry Chemicals Ltd., who delivered a presentation on the importance of biosecurity for pig and cattle farms. He also shared his experience relating to the key stages in the development of biosecurity plan development during animal & poultry disease outbreaks. Taking into account the current situation in the agricultural industry in Ukraine, this report triggered keen interest from the audience.
Anatoliy Livinskyi, a Livestock nutrition consultant at Right Frank Ltd., also presented a report on the management of dairy herd reproduction. Which nutrition strategy should be adhered during transition period? How can we influence on the resumption of oestrous cycle in dairy cows? What causes the delays in ovulation? All these questions were the subject of the presentation and invoked active discussions between the participants.

Agro Spring 2018
Right Frank Ltd participated in the VIII International AGRO ANIMAL SHOW which was one of three main events during agricultural exhibition Agro Spring 2018 held in the International Exhibition Centre…
more >

Grain Tech Expo 2017
15-17 February 2017 Venue: Exhibition center "KyivExpoPlaza" , Salyutna 2b, Kyiv, Ukraine.Organizer: Kyiv International Contract Fair, LTD Grain Tech Expo – biggest agro-industrial forum, which holds leading place in the agricultural…
more >

News on the Use of Acids in Fish Nutrition
In monogastric animals, including a wide variety of different fish species (ranging from salmon and trout, tilapia, sea bass to pangasius), the chemical breakdown is next to others achieved in the stomach…
more >